University of Plymouth seeks help to relocate data center
As it moves to the cloud
The UK's University of Plymouth is looking to relocate its data center out of a science and engineering building as it upgrades its infrastructure.
Currently, the university located in the southwest of England, has a dedicated mainframe and terminal room embedded in its Babbage Building. However, the 1970s structure is no longer seen as fit, and the university wants to create more than 108,000 sq ft (10,000 sq m) of research and teaching space. This involves re-equipping engineering laboratories with modern, state-of-the-art resources for research and making the aesthetics attractive to staff and students. Because of the works, the data center has to be moved.
Plymouth University has been downsizing the facility since its "Into The Cloud" project saw almost 70 percent of the campus' storage needs transferred to Microsoft Azure. After this mass virtualization, the organization is now moving what's left of the hardware over to its Portland Square building located elsewhere on the campus.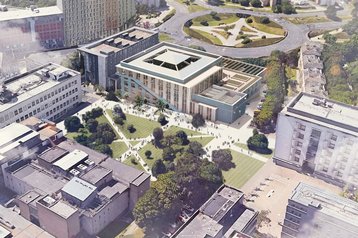 – University of Plymouth
Professional work
To get the move done, the university has placed a £500,000 tender on the UK government's contracts website. Originally posted on November 20, the tender is still open.
The equipment to be moved is running applications which have been deemed as not suitable for Azure, and therefore must remain on site. The university is therefore not considering any proposals suggesting a complete cloud replacement for the data center.
The 132kW data center itself consists of a mainframe and terminal room, with a total of six racks consisting of four for central IT equipment and two racks for faculty needs. According to the requirements, the new space in the Portland Square building must have a raised floor that can carry the weight of the IT equipment plus an extra 20 percent for any new gear brought in.
The contract's papers also stipulate the need for a generator to provide 72 hours of runtime and 10 minutes of UPS coverage. The Building Management System (BMS) at Portland Square is believed to be the Satchwell Sigma BMS system by Schneider Electric.
The deadline for the tender is expected to expire next week.